We're always looking for more storage, but recently our son, Angelo, has been playing with certain toys that deserve to be highlighted instead of hidden in a storage bin (like his Daddy's old Ninja Turtle Action Figures!) And since we've been making so much from Chriselle, it's only fair that Angelo gets something, too. I started researching online at the usual places I go for inspiration (Pottery Barn Kids, Land of Nod, etc) and came across this piece from The Land of Nod: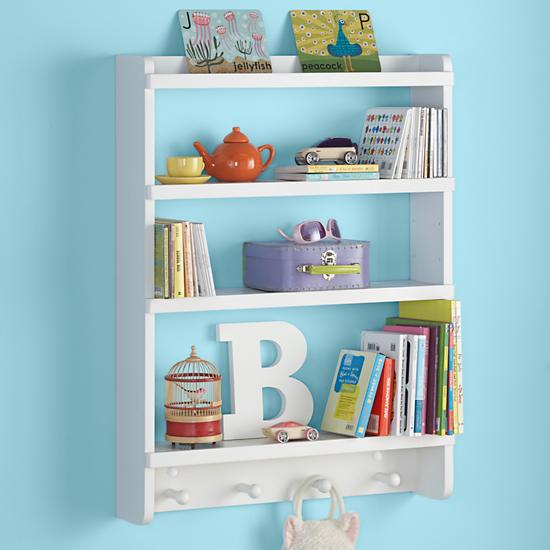 Straight and Narrow Wall Rack $109
It's perfect because it will hold come books, some toys and the pegs will hold jackets or whatever else he wants to hang on there. Well, aesthetically, we needed two of them so his room looked "complete" and at $99/each, that is just something that is out of our price range. So, I showed it to my husband and sure enough, he said it would be really easy. He was right-this shelf was the fastest and easiest project we've made so far! We wanted to make these right away so we didn't wait around for scrap wood, but it's still a steal at $12 of wood/each (the hooks cost more than the wood)! It took about an hour to cut and put together 2 shelving units. Here's what you'll need to make yourself some of these shelves:
Time: 1-2 hours
Plywood (~$18)
3/4″ Plywood ($44.97) [Quarter sheet for 1 shelf]
http://www.homedepot.com/Lumber-Composites-Plywood-Sheathing-Subfloor-Plywood/h_d1/N-5yc1vZbu0m/R-202887464/h_d2/ProductDisplay?langId=-1&storeId=10051&catalogId=10053
Veneer Edging
Cloverdale 28050 Band-It Wood Veneer Edging
Dimensional Lumber (~$15)
1 X 6 X 8 (x2)
1 X 4 X 8 (x1)
1 X 2 X 8 (x1)
Double Hooks – 2 packs
National N335-786 Antique Brass Double Clothes Hooks Pack of 2
Cut List
5.5″ x 32″ (x2 – Sides)
5.5″ x 22.5″ (x4 – Shelves)
2″ x 22.5 (x1 – Top Plate)
4″ x 22.5 (x1 – Bottom Plate)
Notes:
– The top 3 shelves are spaced 7″ apart which leaves about 11″ of space before the bottom shelf.
– Used the Kreg bit once again to hide the screws
– Two holes are drilled (centered 12″ apart) in top plate for mounting.
– We used veneer edging and stained everything to match..if you're not staining the shelf, you won't need the veneer
Pictures:
We also made 2 more units to put into Chriselle's room since we had extra wood. We're probably going to round the edges on hers. This is a really simple project, so if you're itching to make something, this is the one you should start with! Hope that this entry was helpful! Happy building!